The USS M. Curie Discoveries

The Tells of Cutezar Book One

Author Jo Bower brings a new dimension to Roddenberry's familiar Star Trek universe as she wonders what life would be like when Believers join space exploration. The emphasis of the series shifts from preoccupation with technology and emphasizes the culture encountered in space. Liberally sprinkled with humor, the chronicals of The Universal Science Ship M. Curie will broaden your concept of how God chooses to reveal Himself.

This first novel introduces Chaplain Craig Lea, the crew of the M. Curie, and the community of Believers he serves.

On a deserted planet, the USS M. Curie's students test their new technology they have developed for their doctoral degrees in archaeology. The study becomes a real mission when they are contacted and warned to stay off the planet after night fall. And the mission turns dangerous as the scientists struggle to decipher the danger the Cutezarians fear. Chaplain Lea and his community discover the Cutezarians have a deep and ancient bond with all humanity.
Don't Miss the Beginning!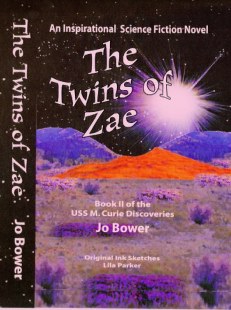 The Tells Of Cutezar The Twins of Zae

The Twins of Zae
Book Two
According to one reviewer, "Better than the first book!"
Vantheria and Varkma are the only non-male twins on the planet of Zaetheria. The Twins of Zae dominate Zaetheria, and only males are twins. But the presence of the twin, not the gender, is the most important part of the Twins of Zae's lives.
These facts leave Vantheria and Varkma puzzled, as they are twins in all ways. They move things with their minds, they can send each other pictures as they communicate - both vocally or mentally - and they can propel themselves through short distances. Yet Vantheria is female, and Varkma is male.
After a life changing encounter with a Presence not of her twin, Vantheria begins to share her discovery. She and Varkma discover Zae society is riddled with ancient secrets and deceptions that dismay, encourage, and astound them.
The first half of the book is a novel within a novel, which the reader reads along with Chaplain Lea. The second half is a record the M. Curie's dig, conducted at the request of Vantheria, now the Monarch of Zaetheria. Craig gets involved as he comes to understand her struggle to expose the final, ancient secrets and they discover a deeper, permanent, spiritual bond between Zaetherians and Humans.