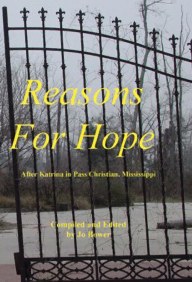 Reasons For Hope
Telling the stories of recovery and rebuilding of Pass Christian, MS the media is not telling!
Reasons for Hope is a book of stories from both the survivors of Katrina and the volunteers who have come to represent more than just physical help.
Personal observations are written by Bishop Richard Snyder of the Free Methodist church, Rev. Lewis Bunn, who was the first FM coordinator of the work, and Rev. Greg Nitchman, the current Free Methodist pastor and church planter. .
Complied and edited by Jo Bower
Reasons For Hope is being offered at the special price of $5.00 plus ($1.15 postage) so as many as people as possible can be blessed by God' s work in this region.
Send orders to