Readers' Plays for Small

Churches of Any Size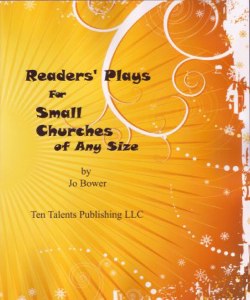 A readers' play is a classic format of theater much like dramatic readings. Jo has aaaugmented this to plays about situations in which the actors can have the script in their hands.
As a product of the small churches her father pastored, and similar sized churches her husband pastors, Jo Bower began writing plays when she could not find anything to fit her budget, size of platform, number of people who had time to learn lines, and people to construct props. A couple of these plays have only four characters. Fourteen characters are the most characters in any play of the book.
So, surely, you can find a play in this book to fit your needs.
It sells for $10.00, and may be ordered through Ten Talents Publishing LLC, or found on Amazon.com.